ZCWD PR 015 s. 2017




Monday, May 22, 2017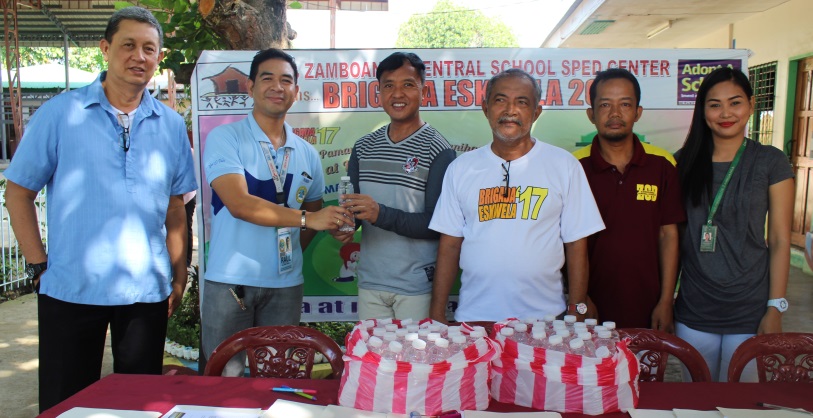 For the second year in a row, Zamboanga City Water District became an active participant in the nationwide pre-school opening program 'Brigada Eskwela' last week May 15 – May 20, 2017 here in Zamboanga City.
Through its Community Relations and External Affairs Section unit (CREAS) the district extended help by way of distributing bottled water for seven (7) schools in both the city's east and west coast areas last May 16 and 18, during the 'Brigada Eskwela' week.
This year's school-beneficiaries were the Tolosa Elementary School under the supervision of Ms. Ivy A. Apolinario, Talon-Talon National High School headed by Brigada Chairman Edmond Basilio, Sta. Maria Central School under Dr. Vilma Brown, the Pasonanca Elementary School supervised by Brigada Eskwela in charge Mrs. Flordeliz Recinto, Canelar Elementary School under school Officer in Charge Mr. Rolito Molejon, City Central School with Dr. Edsel Francisco and the Baliwasan Elementary School under Principal Dr. Edgardo Falcatan.
ZCWD had the CREAS Team composed of Raul Ruben R. Rivera Jr., Darwisa B. Salip Akarab and Section head Edgardo Lorenzo D. Baños doing the rounds of the schools delivering the bottled water.
In separate messages to the school beneficiaries, Baños extended the messages of the board of directors headed by Chairperson Jose Vicente F. Atilano III and General Manager Leonardo Rey D. Vasquez in the desire of the water utility firm to partner in worthwhile programs such as 'Brigada Eskwela' which has greatly benefitted schools under the Department of Education in preparation for the opening of classes next month.
'Brigada Eskwela' a voluntary community oriented program to prepare schools for the opening of classes entered its 15th year becoming a mainstay program of DepEd.
Accordingly it has helped say the DepEd close to two billion pesos in funds the past 15 years which allowed the department the opportunity to re channel money elsewhere it is needed.
The top ZCWD officialdom reaffirmed its commitment to continue helping the program in the years ahead as part of its corporate social responsibility program.
We are reminding consumers to conserve and use water wisely. To report or for any concern please call ZCWD Customer Care Division 955 – 1007 to 1008; WTP 957 – 3651  loc. 100 from 8:00 AM to 5:00 PM or visit our web page @ https://www.zcwd.gov.ph or FB page @https://www.facebook.com/ZamboangaCityWaterDistrict  for updates. (EdBaños – CREAS Chief ZCWD)