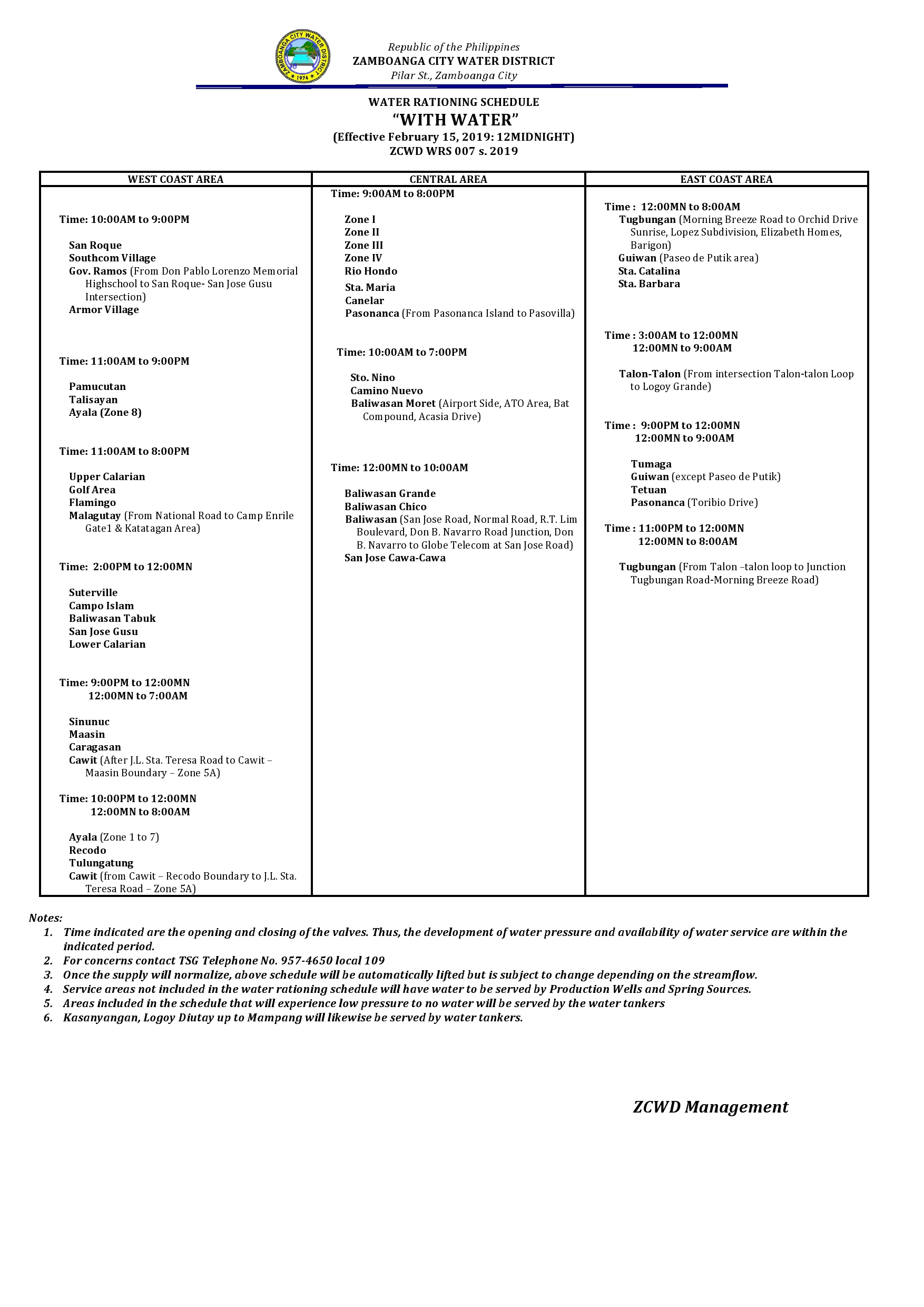 (Effective February 15, 2019: 12MIDNIGHT)
Gov. Ramos (From Don Pablo Lorenzo Memorial Highschool to San Roque- San Jose Gusu Intersection)
Malagutay (From National Road to Camp Enrile Gate1 & Katatagan Area)
Cawit (After J.L. Sta. Teresa Road to Cawit – Maasin Boundary – Zone 5A)
Cawit (from Cawit – Recodo Boundary to J.L. Sta. Teresa Road – Zone 5A)
Pasonanca (From Pasonanca Island to Pasovilla)
Baliwasan Moret (Airport Side, ATO Area, Bat Compound, Acasia Drive)
Baliwasan (San Jose Road, Normal Road, R.T. Lim Boulevard, Don B. Navarro Road Junction, Don B. Navarro to Globe Telecom at San Jose Road)
Tugbungan (Morning Breeze Road to Orchid Drive Sunrise, Lopez Subdivision, Elizabeth Homes, Barigon)
Guiwan (Paseo de Putik area)
Talon-Talon (From intersection Talon-talon Loop to Logoy Grande)
Guiwan (except Paseo de Putik)
Pasonanca (Toribio Drive)
Time : 11:00PM to 12:00MN
Tugbungan (From Talon –talon loop to Junction Tugbungan Road-Morning Breeze Road)
1. Time indicated are the opening and closing of the valves. Thus, the development of water pressure and availability of water service are within the indicated period.
2. For concerns contact TSG Telephone No. 957-4650 local 109
3. Once the supply will normalize, above schedule will be automatically lifted but is subject to change depending on the streamflow.
4. Service areas not included in the water rationing schedule will have water to be served by Production Wells and Spring Sources.
5. Areas included in the schedule that will experience low pressure to no water will be served by the water tankers
6. Kasanyangan, Logoy Diutay up to Mampang will likewise be served by water tankers.