Being the primary drinking – water service provider in the City, the Zamboanga City Water District (ZCWD) was awarded by the Department of Health (DOH) its Certificate of Water Safety Plan (WSP) Acceptance in compliance with the requirements for acceptability pursuant to the DOH Administrative Order (AO) No. 2017 – 0006 dated September 4, 2018.  The Certificate which has a validity until September 4, 2021 was awarded by the DOH on September 26, 2018, during the "National Health Summit" at Sequoia Hotel, Quezon City.
The ZCWD's WSP holds the sole distinction of having obtained a 100% perfect score among more than 100 WSPs so far reviewed and evaluated by DOH and the Local Water Utilities Administration (LWUA).  More than 500 water districts in the country are required to comply with the said DOH AO and LWUA Circular and score at least 60% in each of the nine (9) review and evaluation parameters.
As a general guideline, under the AO, "all drinking-water service providers are mandated to secure an approved WSP from the DOH or its authorized office" ensuring the quality of safe drinking water and the promotion of the health of every Filipino.  The said DOH AO entitled "Guidelines for the Review and Approval of the Water Safety Plans of Drinking Water Service Providers" was issued on April 20, 2017.
The WSP Team achieved the feat with the full support of the ZCWD Board of Directors, namely Chairperson Mr. Jose Vicente F. Atilano III, Vice Chairperson and former DOH Undersecretary Milagros L. Fernandez; Board Members Engr. Efren N. Arañez, Mr. Abram M. Eustaquio and Ms. Esther G. Orendain and ZCWD General Manager Leonardo Rey D. Vasquez, with the latter issuing various office orders which greatly ensured such achievement.
On November 28-29, 2013 the Water Safety Plan was first introduced to Zamboanga City Water District in a 2-day training workshop of the WHO-DOH Water Safety Plan conducted by the Department of Health and WRRTD-LWUA held at San Mateo Rizal.
Before the issuance of Department of Health Administrative Order No. 2014-0027 entitled "National Policy on Water Safety Plan (WSP) for All Drinking-Water Service Providers and LWUA Memorandum Circular No. 010-14 requiring all Water Districts to develop and implement a WSP, the GM Vasquez issued OGM Memo No. 244-14 directing for the creation of the ZCWD WSP Team which was tasked to develop a WSP to serve as a tool to ensure quality of water being served and delivered to customers. The members were sent to several trainings and ZCWD also received the WSP equipment from the Department of Health and the World Health Organization on September 2014 to capacitate ZCWD training unit for its conduct of WSP Trainings and Workshops.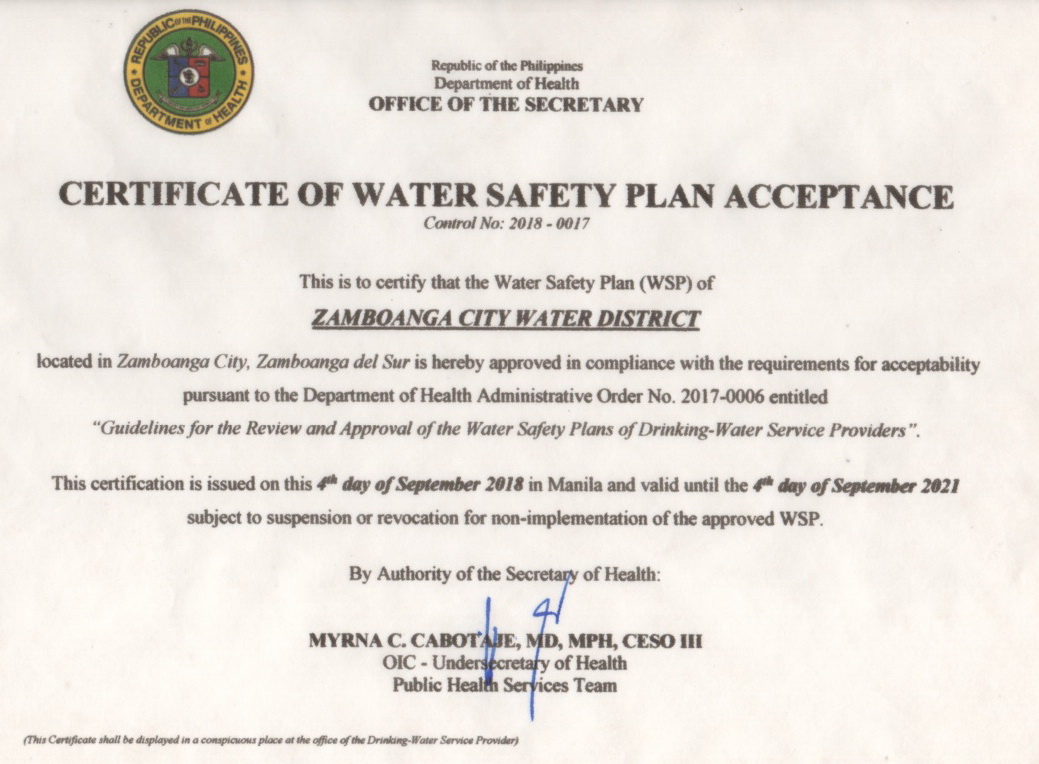 GM Vasquez, further recognizing the importance of the WSP reasserted its commitment through OGM Memo No. 356-2016 for the re-organization of the WSP Team composition to develop and implement a WSP. Then on March 2017 the ZCWD Board of Directors issued Board Resolution No. 046 supporting and approving the preparation and development of WSP and its implementing activities.
The WSP integrates existing operational measures in response to emergencies and/or challenges to the operations of each component of a safe drinking water (from source/catchment to treatment and storage to distribution up to customer satisfaction). This Plan is likewise intended to facilitate decision-making especially in times were the concerned unit is faced with challenges in its operations in providing the standard safe drinking water.   
Members of the ZCWD WSP are as follows: Team Leader: Mr. Michael Angelo M. Carbon, Coordinator: Ms. Genevieve Karen P. Genel, Secretariat: Ms. Lyanne WS Certeza; Source: Engr. Valerie Gay Gutierrez, Members: Engr. Leodigario Espinosa, Ms. Anne Aubrey Bugtong, Engr. Archiles Braulio, Mr. Eric Salaritan; Storage and Treatment: Engr. Teotimo C. Reyes, Jr. Members: Engr. Eugene Domingo, Mr. Tedilito Sarmiento, Engr. Alex Acosta; Distribution: Engr. Efren Salvacion, Members: Engr. Calos S. Perez, Sr., Engr. David Capopez, Ms. Alva Marie C. Conti, Engr. Jaime P. Alvarez, Atty. Rina Bendaño, Engr. Mary Ann Araneta, Engr. Roderick Conception; Technical: Engr. Marli P. Acosta – de Fiesta, Members: Engr. Rex D. Sale, Jr., Engr. Carol M. Torino, Engr. Manilyn F. Eijansantos, Engr. Arian D. Godinez; Admin / Finance: Ms. Leila Montejo, Member: Ms. Sundae P. Najar.  Engr. Alejo S. Rojas, Jr., AGM for Operations stood as resource person for the team.
As part of its WSP implementation, the ZCWD encourage its clients to report any concern to ZCWD Customer Care Division 955 – 1007 to 1008, WTP 991 – 1553 loc. 100 from 8:00AM to 5:00PM or visit our web page @ https://www.zcwd.gov.ph  or FB page @ https:// www.facebook.com/ZamboangaCityWaterDistrict for updates. (Raul Ruben Rivera, Jr. SCRO, ZCWD).