A three-man team from the Asian Development Bank (ADB) arrived town and sat down with top ZCWD officials last Tuesday (October 30, 2018) as the local water firm looks for possible funding of its various expansion projects in the pipeline for implementation soon.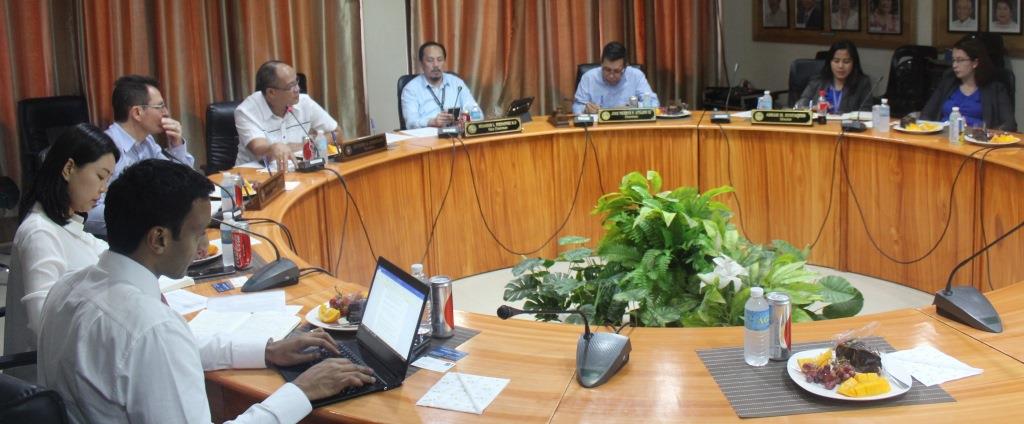 The three-man team was composed of ADB Senior Country Specialist Alain X. Morel, Urban Development Specialist Sameer A. Kamal and Financial Management Specialist Sorin Chung, met with top district officials headed by General Manager Leonardo Rey D. Vasquez at the ZCWD boardroom.
The guests from ADB were given a thorough briefing on the current state of affairs concerning the Sanitation Projects of Zamboanga City Water District.
The briefing was conducted by Engr. Aubrey Anne Bugtong, ZCWD Technical Services Group Environmental Specialist A.
Engr. Marli de Fiesta Technical Services Department head for also revealed, the ADB team was also apprised on other projects such as the proposed impounding dam, the rehabilitation of the sewage treatment plant, the construction of another 50 MLD (Million litres per Day) plant in the east coast among others.
De Fiesta further disclosed ADB currently evaluating development programs through a facility dubbed 'livable cities Investment Projects' wherein grants are provided countries looking at improving sanitation and hygiene, water source development projects and environmental impact projects.
Among the cities they are seriously looking at is the Philippines, Engr. de Fiesta added.
For his part Engr. Arnulfo A. Alfonso head of the Technical Services Group disclosed he requested the ADB officials to conduct assessment of the water transmission line in the east coast leading to the city's bypass road and other projects the water district is looking at implementing.
Also present during the briefing were Department Manager of Environment and Water Resources, Engr Valerie Gay Y. Gutierrez and Department Manager of Corporate Planning, Michael Angelo M. Carbon.
The ADB team will assess the various programs of ZCWD that were presented and prepare to submit recommendations on the possibility of providing grants to fund these projects.
The water district officials are hopeful ADB could come in and help provide technical assistance and grants for its projects lined up for the future. (Ed Baños-CREAS ZCWD)